FOR IMMEDIATE RELEASE: CERTIS ONCOLOGY SOLUTIONS LAUNCHES PREDICTIVE ANALYTICS PLATFORM
Bioinformatics Solution Combines Artificial Intelligence, Maching Learning and Functional Testing to Elevate Precision Cancer Treatment
San Diego, CA — April 13, 2023 — Certis Oncology Solutions ("Certis"), a precision oncology and translational science company focused on combining functional assays and artificial intelligence (AI) to advance personalized medicine, today announced the launch of CertisAI™, a new predictive medicine platform that utilizes big data, statistical algorithms,and machine learning (ML) to predict drug efficacy based on gene expression biomarkers. This pan-cancer solution can accelerate drug discovery and companion diagnostics development.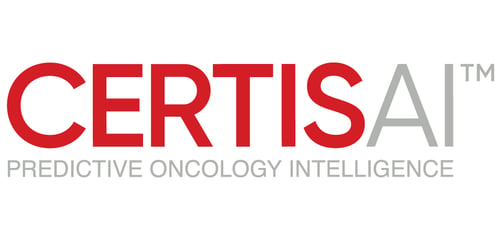 Unlike common single-biomarker strategies often employed in precision medicine, CertisAI uses multivariate ML algorithms to capture the nuance of biomarker interactions and bring greater accuracy to predictions of drug efficacy.
"When it comes to understanding how to treat a person's cancer, identifying oncogenic DNA mutations is just scratching the surface," said Peter Ellman, Certis President and CEO. "This common approach to precision medicine isn't capturing the nuance of gene expression levels or the complex interrelationships between multiple genetic features. These dynamics are what govern tumor response to any given therapy, but the complexity involved is too great for any human to grapple with. Computer models can," he said.
Bringing AI Support to Cancer Therapeutic Development
Despite great progress in cancer research, fewer than 4% of oncology drugs that enter clinical trials are ultimately approved for use.1 Many factors contributing to this translation gap in cancer therapeutics could be mitigated by better-informed decision-making early in the development process. With CertisAI, researchers can effectively replace many discovery screening studies with in silico predictions, and save time and money by bringing computer-aided insight to a variety of drug development challenges, such as:
Identifying biomarkers that are predictive of therapeutic response
Uncovering biological pathway mechanisms of action (MOAs)
Ranking cancer types most likely to respond to a lead candidate
Elucidating synergistic potential of combinatory therapies
Selecting optimal cancer models for in vitro and in vivo validation studies
Developing stratification strategies for clinical trial patient selection
Prioritizing candidates in compound libraries and/or assessing the value of intellectual property
The origins of CertisAI are rooted in the company's mission: finding the optimal therapy for every cancer patient, the first time, every time. Since its founding in 2016, Certis has been validating a functional approach to personalized medicine using orthotopic patient-derived xenograft (O-PDX) models — sophisticated mouse models of individual cancers that enable the simultaneous testing of multiple therapeutic options. Data from these studies may be used to help inform oncologists' treatment strategies.
Relieving the Validation Bottleneck
In addition to developing the predictive platform, Certis is tackling a persistent problem in the AI-driven healthcare landscape — how to efficiently validate in silico predictions. Conducting clinical trials and waiting for long-term outcomes is inherently slow, making validation a bottleneck to progress.
Certis draws on deep experience developing O-PDX models, performing mouse clinical trials to validate CertisAI predictions. Results from these studies generate training data to inform the platform's ML algorithms, improving predictive accuracy.
Most genomic testing companies that include possible matched treatments in their reports consider only drugs already approved for companion biomarkers. The Certis predictive algorithms look outside standard-of-care, including off-label uses of approved drugs as well as investigational drugs in clinically accurate mono and combination therapies (>90% and 83% combined, respectively), and external validation on O-PDX models has shown promising results.
For more information, register now for our upcoming live webinar on AI in Cancer Research: Optimizing Biomarker Discovery, Model Selection and Preclinical Decision-Making.
About Certis Oncology Solutions
Certis Oncology Solutions is a life science technology company committed to realizing the promise of precision oncology. Our product is Oncology Intelligence™ — highly predictive therapeutic response data derived from advanced biological models of cancer and enhanced with AI-driven bioinformatics. Our proprietary platform can help inform personalized cancer care and accelerates the development of new cancer therapies.
Reference: 1 Wong CH, Siah KW, Lo AW. Estimation of Clinical Trial Success Rates and Related Parameters. Biostatistics. Apr 1, 2019. 20(2):273-286.
###
MEDIA CONTACT
Certis Oncology Solutions
Kristein King
kking@certisoncology.com
573-818-4528
Back to Feed