For Immediate Release: Upcoming Webinar on AI in Cancer Research
OPTIMIZING BIOMARKER DISCOVERY, MODEL SELECTION AND PRECLINICAL DECISION-MAKING
Toronto, ON — April 25, 2023 — In this upcoming live webinar hosted by Xtalks, learn about how artificial intelligence (AI) can bring greater speed and precision to preclinical decision-making. Certis Oncology Solutions Director of Bioinformatics and Data Science Long H. Do, PhD, will discuss the application of multivariate, in silico analyses of protein expression biomarkers and machine learning (ML) algorithms in drug discovery and companion diagnostics (CDx) development. Attendees will gain insights about using AI to identify biomarkers, prioritize the most promising compounds, rank cancer types most likely to respond to a lead candidate and elucidate potential synergies of combinatorial therapies.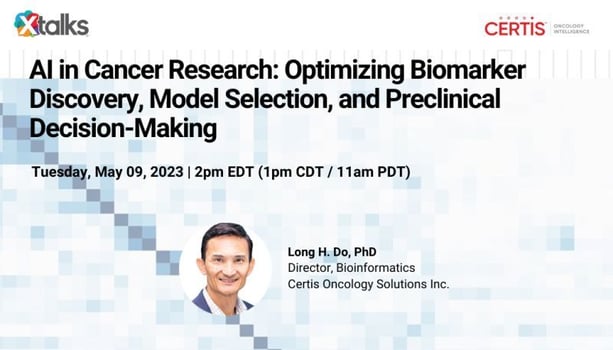 AI-enabled technologies are revolutionizing the drug development process, from target identification and lead optimization to early biomarker validation. By leveraging big data, bioinformatics and ML, cancer drug development and translational research teams can identify novel biomarkers, prioritize leads and make better-informed preclinical decisions. Whether a strategy involves bringing novel cancer therapies to market or repurposing existing drugs, applying AI in cancer research can help unlock the full potential of candidate drugs and expedite the path to approval.
In this upcoming live webinar, Certis Oncology Solutions Director of Bioinformatics and Data Science Long H. Do, PhD, will explore how in silico innovations can bring new insights to oncology translational research and the drug development process.
AI in Cancer Research: Optimizing Biomarker Discovery, Model Selection and Preclinical Decision-Making
Tuesday, May 9, 2023, 2pm EDT (11am PDT)
For more information and to save your virtual seat, register now.
ABOUT XTALKS
Xtalks, powered by Honeycomb Worldwide Inc., is a leading provider of educational webinars to the global life science, food and medical device community. Every year, thousands of industry practitioners (from life science, food and medical device companies, private & academic research institutions, healthcare centers, etc.) turn to Xtalks for access to quality content. Xtalks helps life science professionals stay current with industry developments, trends and regulations. Xtalks webinars also provide perspectives on key issues from top industry thought leaders and service providers.
Xtalks Media Contact:
Vera Kovacevic
Tel:(416) 977-6555 x371
Email: vkovacevic@xtalks.com
ABOUT CERTIS ONCOLOGY SOLUTIONS
Certis Oncology Solutions is a life science technology company committed to realizing the promise of precision oncology. Our product is Oncology Intelligence™ — highly predictive therapeutic response data derived from advanced biological models of cancer and enhanced with AI-driven bioinformatics. Our proprietary platform can help inform personalized cancer care and accelerates the development of new cancer therapies.
Certis Media Contact:
Kristein King
Tel: (573) 818-4528
Email: kking@certisoncology.com
Back to Feed