Certis Oncology Solutions Recently Featured in Cancer Cell Journal for Innovation in Personalized Cancer Medicine
Functional Precision Oncology: Testing Tumors with Drugs to Identify Vulnerabilities and Novel Combinations
Getting in front of recurrent, resistant or any complex cancer means always thinking one step ahead of the disease. If the current cancer treatment regimen proves ineffective, then What's Next? In the January 10 issue of Cancer Cell, researchers from Dana Farber Cancer Institute, Harvard Medical School, Brigham and Women's Hospital, and the Huntsman Cancer Institute wrote about how with functional precision medicine (FPM), it is possible to answer the question, What's Next? with confidence.
Predicting Individual Anti-Cancer Drug Responses with Functional Precision Medicine Assays
FPM in oncology is an approach whereby live tumor cells from affected individuals are directly perturbed with drugs to provide immediately translatable, personalized information to guide therapy.1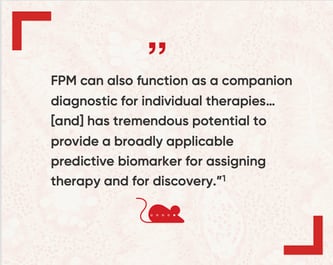 In the recent journal article, Certis Oncology Solutions was featured as one of 19 companies that conducts FPM services. As a life science technology innovator, Certis is unique in the field for its use of patient-derived xenograft (PDX) models to perform personalized in vivo pharmacology studies.
Orthotopic Patient-Derived Xenograft Models —the Gold Standard in Cancer Research2
To help inform individual patient treatment decisions, Certis simultaneously tests multiple therapeutic options in orthotopically developed PDX models (mouse avatars) of an individual's cancer, enabling clinicians to determine with great certainty which therapies will—and very importantly, will not—affect an optimal clinical response for that individual.
Orthotopic patient-derived xenograft (O-PDX) mouse models are considered the gold standard for cancer research and preclinical drug development,2 having been shown to:
Replicate the unique genetic and molecular signature of an individual's tumor,3
Mimic metastatic behavior,4
And predict drug response and resistance.5
In vivo testing using O-PDX models takes time, but as a functional assay, it is the most precise model available today in the precision oncology toolbox.

About Certis
Certis Oncology Solutions is a cutting-edge life science technology company dedicated to precision oncology and translational science. Its mission is to connect every patient to the right cancer treatment, the first time, every time. Certis explores options for precision therapies beyond the current standard of care and partners with pharmaceutical companies to help develop the next generation of targeted therapeutics. 
References: 1 Letai A, Bhola P, Welm AL. Functional Precision Oncology: Testing Tumors with Drugs to Identify Vulnerabilities and Novel Combinations. Cancer Cell. 2022 Jan 10;40(1):26-35. 2 Jäger W, Xue H, Hayashi T, et al. Patient-Derived Bladder Cancer Xenografts in the Preclinical Development of Novel Targeted Therapies. Oncotarget. 2015;6(25):21522-21532. 3 Qiu W, Su GH. Development of Orthotopic Pancreatic Tumor Mouse Models. Mol Biol. 2013. 4 Walters DM, Stokes JB, Adair SJ, et al. Clinical, Molecular and Genetic Validation of a Murine Orthotopic Xenograft Model of Pancreatic Adenocarcinoma Using Fresh Human Specimens. PLoS One. 2013. 5 Das Thakur, M., Salangsang, F., Landman, A. et al. Modelling Resistance in Melanoma Reveals a Strategy to Forestall Drug Resistance. Nature. 2013.
Back to Feed